Experienced IT Executive Brings Cloud Expertise to Drive Innovation for Delta Data and its Clients
February 28, 2023 – Columbus, GA: Delta Data, a leading provider of pooled asset and mutual fund software solutions, is pleased to announce the appointment of Chris Carney as the new Chief Technology Officer. With over 20 years of experience in IT management and a proven track record of success in leveraging technology solutions to deliver superior solutions, Chris is the ideal candidate to drive Delta Data's cloud initiatives and lead the company in its next phase of technology transformation.
"We are delighted to welcome Chris to the Delta Data team," said Cameron Routh, CEO of Delta Data. "His expertise and experience in technology and leadership will be invaluable as we continue to advance our technology solutions to the next level. Chris is distinctively suited to drive innovation as we accelerate our transformation with differentiated cloud-based solutions that will benefit Delta Data's clients with greater convenience, scalability, and security. We are confident that he will play a crucial role in creating and delivering on Delta Data's strategic technology vision."
Chris's extensive knowledge of cloud technology was a significant factor in his appointment. He previously worked for Accruent, where he led the development of an integration platform that leveraged Microsoft Azure to improve efficiency and costs for clients.  He was awarded the Oracle Cloud Platform Innovation award for developing a data platform for customers to build dashboards and reports using real-time data, resulting in improved decision-making and cost savings for their clients.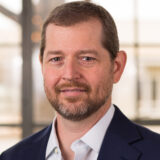 Chris is known for building high-performing teams and driving results and he is expected to foster a positive, collaborative work environment at Delta Data while supporting the professional growth of his team.
"The team's unsurpassed understanding of the pooled asset/mutual fund industry and the challenges it faces was key in my decision to join Delta Data," Chris noted. "I am excited to join such an experienced team and contribute my experience in technology to the mix. I am confident that together we will continue to deliver forward-looking solutions to address the biggest issues facing our clients. "
Chris joins Delta Data at a time of exciting growth for the company and his appointment as CTO is a testament to the company's commitment to delivering the best technology solutions to its clients. Having led multiple critical technology initiatives, Chris brings a strategic mindset and a wealth of knowledge from which Delta Data clients, partners, and team members will all benefit.
About Delta Data
Delta Data is a leading provider of technology solutions for the mutual fund and pooled assets industry, processing trillions of dollars in assets for top financial institutions.
Our industry-vetted SaaS integrated suite is trusted by four of the top 10 US banks, three of the top five US retirement recordkeepers, and six of the top 10 US investment managers. We empower financial companies to navigate the complex regulatory landscape and mitigate risk through efficient data management and streamlined automation. Join the ranks of industry leaders and benefit from our innovative, proven solutions.
Follow Delta Data on LinkedIn (linkedin.com/company/delta-data-software/) and Twitter (@Delta_Data).
Delta Data Media Contact:
Claudine Martin
VP Marketing
cmartin@deltadata.com
508-341-2123