Delta Data has had a resident data scientist and data analytics team for years ahead of the industry curve for this type of specialized personnel. Athey draws from first-hand experience to discuss the necessity for data scientists and their associated translators, on both the vendor and customer side and their importance in adding value to the challenges faced by Asset Managers. He has personally assembled teams for several pooled investment companies, including Delta Data, Lehman Brothers, and the Grimes Companies.
Finding the proper data scientist and associated team (sourcing and on/offshoring) for a company requires a very clear understanding of a company's needs, the type of data to be analyzed, and, most importantly, the intended use of the data for the specific consuming audience. Athey will help delineate the role for the data scientist, staffing a team, properly coordinating incoming data sources and sharing of interpreted data with other parts of the company
Collectively the panel will answer critical industry questions:
What actually is a data scientist, and does your firm have one or need one?
What is a data science translator, and does your team need one?
Achieving the technical skills to navigate to an increasingly complex technical landscape from data management to business intelligence and advanced analytics.
Identifying gaps within your current team.
Considerations for team structures using individual data scientists versus groups with specialized technical and business skills.
Delta Data provides back-end solutions processing trillions of dollars in assets for the mutual fund industry, supporting four of the top 10 US banks, four of the top five US retirement recordkeepers and four of the top five US investment managers, necessitating ongoing and intensive data management, analysis and delivery services.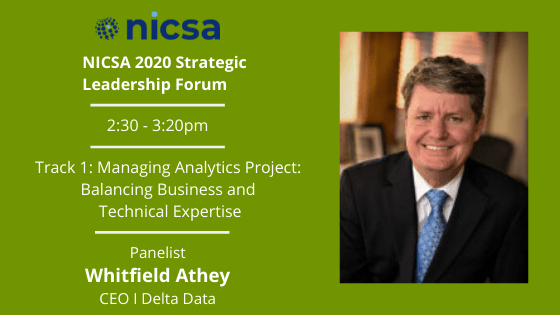 Track 1: Managing Analytics Project: Balancing Business and Technical Expertise
Data Scientists – Are They Really Unicorns? Thursday, February 27, 2020: 2:30 – 3:20 PM ET NICSA SLF