Twenty years ago, email was coming into its own as a simple and effective solution for counterparty communications important information to large groups of people – a significant technological upgrade to faxes. For the fund industry, this has long been the standard for disseminating important information about products to the firms who distribute and service them. As the years went on, the industry has clung to the email based system ever since, despite the industry growing and becoming more complex.
Counterparty Management
Over the years, we've had countless conversations with clients about counterparty management, and it struck us that with all of the technology available today, our clients shouldn't be accepting this email-based communication method as a necessary headache.
Eager to supplement our anecdotal evidence with hard numbers, we decided to conduct a research project with leading industry publication Ignites. The publication surveyed 262 members across the mutual fund ecosystem, including fund companies, broker-dealers, intermediaries such as trusts, and service providers such as subaccountants and record keepers. We asked respondents to assess the level of satisfaction with the use and integration of technology in their own shops, as well as within the mutual fund operations space overall. When we dug into the results, there were few surprises.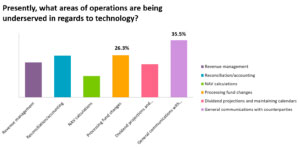 For example, one of the questions we asked of respondents was to identify what areas of operations are being underserved with regards to technology. General communications with counterparties (36%) and processing fund changes (26%) emerged as the top two pain points.
Again, not a huge surprise. However, if you notice, we used the word "underserved" in this question very intentionally. Indicating that something is underserved to us means that there must be some belief that there's the potential for improvement.
With that in mind, our research dove deeper into respondents' feelings about the level of automation deployed at their firms for various operations functions. Predictably, respondents expressed frustration with communicating and processing fund changes, with more than half stating they are less than satisfied with the level of automation employed in the communications process.
Respondents weren't shy when presented the opportunity to offer comments explaining their selections either, with many echoing the sentiment that the email-reliant process predominantly used today "could be improved" and is "still very manual".
Recap of Communications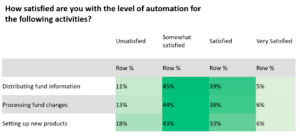 To recap, respondents indicated that counterparty communications and specifically communicating fund changes are the biggest areas that have the most potential for improvement through the elimination of manual processes.
What the research told us that the industry is calling for is a simple, portal-based platform that defines and normalizes fund change data, and that is supported by workflows for both the fund and distributors so that they can communicate and process these changes in a quick and efficient manner. And as a technology company with 30 years of experience in the industry, that's something we can work with.
Delta Data and Fundblast
For those familiar with Delta Data and this blog, you know that FundBlast has been one of the major initiatives we launched this year to address counterparty communications concerns directly. With industry leaders like BNY Mellon already signed onto the platform, we are excited to be leading the transformation of counterparty communications for fund companies and distributors alike. We encourage you to check out the FundBlast overview page, and sign up for a demo if you'd like to learn more.
We also had the opportunity to participate in an Ignites webinar alongside a couple of industry peers to show off some of this research and discuss technology's impact on counterparty communications. The webinar recording is free to access – click here to access it.
For more information, FAQs, and to request a demo, click here.